Dave E. David, M.D.
Surgeon, Media Personality, and International Caregiver

Dr. David is a Cosmetic Surgeon and Anti-aging specialist who began treating patients over 35 years ago and since that time has treated thousands of patients, delivered thousands of babies and performed countless surgeries. He was Board Certified in Obstetrics and Gynecology from the 1980's through 2013.
The Doctor

Humanitarian Aid: In January, 2010, Dr. David responded immediately to the tragiic earthquake in Haiti, delivering emergency surgical and medical care to the Haitian people.Following the 2004 tsunami that devastated south Asia, Dr. David led a medical team into Sri Lanka, rendering medical and surgical treatment to Medical and surgical treatment to tsunami victims. Dr. David's group treated nearly 11,000 survivors of the tragedy.
Cosmetic Surgeon: Dr. David is the Founder and CEO of Medical Face & Body Aesthetics in the Boston area, which utilizes the latest medical and surgical procedures to help both men and women of all ages look and feel better about themselves. His goal is to enhance their natural beauty and erase time, without looking artificial. He was featured in Time Magazine under "Leading Aesthetic Surgeons".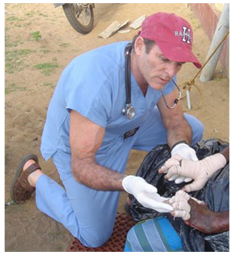 Obstetrician, Gynecologist and Gynecologic Surgeon: Dr. David has been a Board Certified Obstetrician and Gynecologist, who began treating patients over 35 years ago. He's brought thousands of newborn babies into the world, seen thousands of women through their pregnancies, and has educated and influenced the lives of countless pregnant women with his video, Making Womb For Baby."
Educator and Professional Speaker: Dr. David is a former Assistant Clinical Professor of Obstetrics and Gynecology at The University of California, Irvine, Medical School. He has also been on the faculty at Harvard University, teaching Human Sexuality and taught Human Anatomy and Human Physiology at University of Rhode Island. One of Dr. David's passion is speaking and lecturing in front of large audiences, enlightening the public on issues such as health, fitness, nutrition, weight loss, cosmetic procedures, weight loss and topics relating to women's health."
Special interest and expertise in Health, Fitness and Weight Management: Dr.David has treated members of the U.S. Olympic Team and has acted as medical consultant to personal fitness trainers in southern California. He founded Dr. David's Weight Loss Centers, Ltd.., and his weight loss system was featured on the cover of Women's World Magazine. As the co-developer of the Slim Secret Weight Loss System and as a fitness buff himself, Dr. David created and hosted the audio program "The Real Secrets to a Slimmer You", helping countless men and women achieve their weight loss goals.
Medical-Legal Expert and Consultant: From 1982-2013 Dr. David has been sought after as a medical-legal consultant and expert and has become recognized around the country an expert in his fields, reviewing and testifying in both civil and criminal cases as an expert".